An Elegant Memorial Touch
Bronze headstones are becoming very popular in cemeteries across America and the world, and, of course, bronze headstones are a specialty of today's memorial industry. Bronze headstones owe their popularity to the sturdiness of bronze as a headstone material.  Over the centuries, bronze has become known as an incredibly hearty metal that has been used for everything from weapons to statues to tools, of course, bronze headstones since at least 2000 B.C. Bronze headstones have gained extensive popularity in recent years because of their ability to withstand the elements. Their long lasting construction makes bronze headstones perfect for memorialize loved-ones for years, if not generations to come.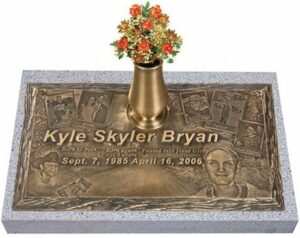 Bronze memorial headstones allow families to participate in the centuries of memorial tradition that surround headstones in general. Like all headstones, bronze headstones are typically fitted with lettering that names the deceased and includes other relevant information, such as dates of birth and death and even epitaphs. With this information, bronze headstones can serve as beautiful memorials to special people. Bronze headstones are also very helpful to historians and genealogists who are often dependent upon them decades, or even centuries, after a death. While it is a given that one can learn much of their ancestry from just a name, bronze allows for further personalization, such as the addition of emblems (which are clip-art type images), longer verses or poetry, or even realistically detailed pictures. These additions give insight into a lost loved one's way of life and interests, even the general style that was prevalent in their era. These small clues into one's past can serve as a great resource for one's decedents to learn about their family heritage.
Bronze headstones have the additional advantage of helping to make cemetery maintenance simple. Their simple-but-elegant nameplates are usually attached to heavy granite bases, and the materials combine to produce a virtually carefree memorial. Bronze headstones do not rust or otherwise become tarnished, and the sturdy granite bases assure that bronze headstones will remain solidly in place for the ages.
The manufacturing of process of bronze headstones uses techniques that have been passed down for centuries, and is a big reason why bronze headstones are perfect memorials. The first step in making bronze headstones is to turn the bronze (which is actually a mixture of copper, tin, lead and zinc) into a liquid that can be poured into molds. Blocks of bronze are placed into a large pot and heated to about 2000 degrees, the temperature at which the bronze starts to melt. Once melted, the bronze goes into the molds for the bronze headstones and is allowed to cool. Next, comes the "chasing" phase, in which workers grind the bronze headstones, removing any imperfections that may appear while the bronze headstones are in the mold.
Once the bronze headstones have been chased, workers apply several coats of a dark brown paint called oxidation. Then they rub a solvent around the lettering areas of the bronze headstones. This removes some of the paint and creates a contrast between the letters and the dark brown background. Once the details are complete, a lacquer coating is applied, the bronze is mounted to 4 inch thick pieces of granite, and the bronze headstones are ready for shipping. The installation of a flat memorial is also fairly straight forward for industry professionals, as they are usually shipped to a cemetery or memorial park pre-assembled. In any case, a bronze marker will offer a truly resilient and unforgettable tribute for the ages.