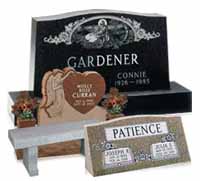 Headstones are an important part of any families grieving process, and they are among the most popular and effective memorials in use today. Headstones for cemeteries serve to help families cope with their losses. By establishing permanent memorials when loved ones die, families can practice the sound advice that psychologists typically give to those going through the grieving process. But, besides their emotional value, headstones are also important for historians. Headstones assure that lives can be documented decades, or even centuries, after death. These are just some of the benefits of headstones. This article aims to give you a good overview of how headstones can be used to memorialize your loved one for the ages.
Headstones are not just for Traditional Cemetery Graves:
One of the most important things to keep in mind about headstones is that they can be erected in in places other than traditional graves. They do not have to, necessarily, mark the place of a burial, but can have other uses too. Upright Headstones and grave markers are important, for example, even for people whose bodies have been cremated (a tradition whose popularity is increasing dramatically). No matter how the ashes are disbursed, cremated loved ones are often given memorials, complete with headstones installed, in today's cemeteries. And this is a common practice even in cases in which ashes have been scattered elsewhere. In fact, it is not uncommon for families to install in a cemetery a somewhat elaborate headstone commemorating a family
member's life and then place several other small headstones in various locale (usually places that were significant to the life of the deceased) where ashes are scattered. Some families bury a portion of the ashes in a grave at the main cemetery, but that is not always the case. This practice helps a deceased person's family and friends who may be far flung across a geographic region to have a place nearby, identified by a memorial headstone, that can be the center of their mourning attention.
Another, somewhat similar, use for headstones is one practiced frequently by families of deceased celebrities. In this case, the most significant and meaningful memorial is placed in a very private spot that is made known own only to very close friends and family. This is often the very spot where the deceased is buried, but not always. Meanwhile, less elaborate, and less meaningful memorial headstones are installed in various locale where the celebrity spent time and was known. This practice is common in cases in which families are concerned that their loved one's main grave may be vandalized by thieves looking to sell dubious memorabilia on the black market. Families of at least two well known celebrities, comedian John Belushi and technology guru Steve Jobs have both adopted this option for headstone use. In both cases, the men are reportedly buried in very secret locations, and memorials are scattered across the United States in cemeteries and other public places. Because no one can be certain of exactly where these men are really buried (several cemeteries have competing claims to being the true home of their remains), this reduces the black market value of the headstones and all related structures and that, therefore, reduces the risk of vandalism. Several in both men's families have noted publicly that, without using this tactic, they would likely have to hire armed guards to stand watch at their relative's grave 24 hours a day. Those skilled in the art of keeping up with celebrities are well aware that headstones of famous people are often simply decoys, and that the persons' remains are usually buried somewhere else entirely. It is probably quite often the case that a celebrity's body is buried in a location left entirely unmarked but otherwise documented in secret family documents that are scheduled to be opened and read many years after a death.
Headstones are a Permanent Record for the Ages:
Headstones, of course, need to be designed to last the ages, and the sturdy construction of headstones assures just that. The long lasting granite or bronze headstones that are most common today assure that memorials will remain intact long after the elements have destroyed paper records or technology has made electronic records obsolete.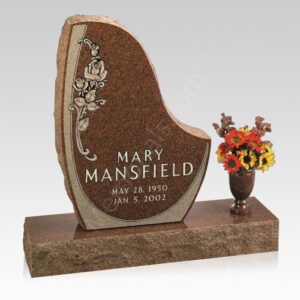 The design of permanent memorials has changed substantially over the years. For many years, permanent graves were usually marked by headstones that were large, up-right pieces of sculpted stone and contained written information about the people whose graves they marked. While these types of memorials are still are used today, they now usually mark groups of graves (such as an entire family). Meanwhile, headstones for individuals typically consist of smaller, plaque-like headstones.  In most memorials today, these individual headstones are made of bronze, granite, or a combination of the two and they are displayed directly on the ground at the head of a grave. These headstones typically preserve the memory of one individual or a couple, and they work in tandem with the larger, up-right headstones to create beautiful memorials for entire families.
Both the upright and the flat stone headstone markers can be adorned with words, designs, and even full-color pictures that reflect the spirit of the deceased. As we say above, these pieces have potential to be around longer than paper or electronic records, so families often pay particular attention to what is engraved and adorned upon them. Typical elements include dates of birth and death, but other important elements include names (or even pictures) of family members, mention of military service and church membership, and, of course, a very special epitaph. Epitaphs are short phrases that capture the entire essence of a person's life on earth. Sometimes they are bible verses, other times they are famous quotations written the deceased's favorite author and still other times they are composed (or uttered) by the deceased himself during is living days.
Headstones are Available in a Variety of Forms:
Headstones for today's permanent memorials most commonly come in two varieties: bronze and granite. Bronze memorial headstones are good for permanent memorials because they typically include bronze plates with special headstones designs and lettering that name the deceased as well as the dates of birth and death. These plates are then attached to granite bases and then installed in cemeteries as beautiful memorial headstones. Granite memorial headstones, meanwhile, are used for upright memorials because their sturdy construction is sure to last for generations to come, and their stone look is the tradition in cemeteries across the globe. In truth, upright headstones can be made of bronze and flat headstones can be made of granite, but modern trends reflect the opposite. That is purely a matter of taste, however, and, of course, the ability to find a manufacturer who can create the headstone of your desire.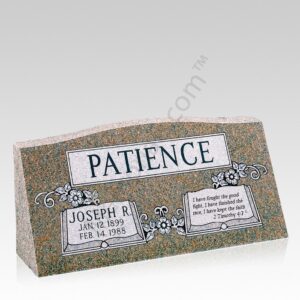 On the topic of manufacturers, consumers are advised to search very carefully to find the best price and reliable service. Cemeteries will usually offer a wide variety of headstones made by manufacturing companies they work with, but the mark-up on these prices may be significant. It is often the case that families can find headstones very similar (if not exactly the same) to the one they might otherwise buy from their cemetery for hundreds (or even thousands) of dollars less. Some manufacturers sell their wares directly to the public, but still a more convenient option is through online retailers who often buy their headstones from the same wholesale manufacturers as cemeteries – but sell them for much less. It is important to realize that cemeteries are allowed, by federal law, to ask their customers for a "setting" fee that covers the delivery acceptance and installation of a headstone, but this fee must be charged universally of all customers – regardless of whether the headstone was purchased from the cemetery or not. It is a violation of federal anti-trust laws for cemeteries to, say, offer their headstone customers free installation while charging others a fee to install a headstone purchased elsewhere. Setting fees vary widely, but they are usually in the range of $50 – $600. Families would do well to inquire about this feel before deciding to do business with a particular cemetery.
How to Buy Headstones:
Buying a headstone is akin to any other major purchase in life. Consumers should not be afraid to search for the best prices and they should not be rushed into a decision by a pushy sales person. Here are a few things to keep in mind about buying headstones.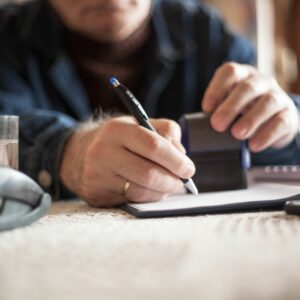 Many people arrange for memorials "pre-need," that is before a person has died. Headstones for pre-need memorials have the name (or, in the case of companion memorial headstones, names) inscribed at the time of purchase, and then the death dates are added later. Many people choose this option for headstones and grave markers because they want the peace of mind that comes from choosing the design and style of their own headstone. Pre-need headstones can be installed at a gravesite well ahead of a death with the assurance that granite engravers or bronze artisans can easily add the date of death to the marker at any time. Many consumer advocates will warn against purchasing this service in advance because one can never be certain that a company will actually be around in a time of need. Adding the additional content to a marker is usually a fairly simple job that can usually be accomplished for less than $100.
In general, consumers should select the headstone of their choice from the retailer of their choice (most retailers have catalogs and/or websites that show all of options they offer). Payment is usually expected in advance before construction of a headstone begins. It is best to make this payment via a credit card so that consumers will have some sort of recourse to fall back upon in the event the headstone is not delivered as promised. Most headstone manufacturers will deliver the grave marker directly to the cemetery where it is to be installed, regardless of where the marker was purchased. Delivery can usually be expected in 4-6 weeks after an order has been confirmed and paid. Most reputable retailers will provide customers with a printed mock-up of what the completed marker will look like. Customers should carefully inspect that mock up for errors and return an approval to the retailer as quickly as possible in order to expedite delivery. Reputable retailers will generally not begin construction of a marker before a customer has approve its design.
In general, headstones are a valuable tool for helping families to remember their loved ones and assuring that a family member's legacy survives through the ages.